CTP – Computer Technician Pregramme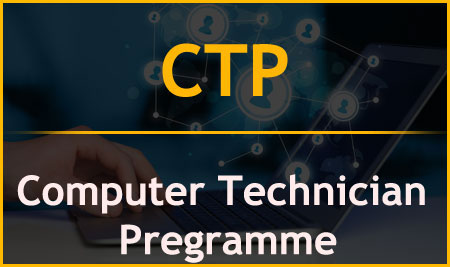 CTP
Computer Technician Pregramme
DURATION : 3 Month
Eligibility : 8th Code No. : R10612
---
Introduction to Computers: Computer its uses, functions, applications
Outer Parts: Learn to recognize external parts and their functions.
Inner Parts: Lerrn to recgnize internal parts and their functions
Computer Assembly.
Different Commands, Partitioning, Formatting, Windows Installation etc
Viruses: What is Virus, How to remove it? Precautions
Functioning of Computer: Boot up Process, Configuration of Computer and Functioning of different parts of Computer, To identify hardware / Software fault, BIOS, Control Panel, Device Manage, Conflicts, Windows help, Common Problems and remedies etc.